Art in the Church

The most significant work of art in the church is probably the memorial to William Christian of Ronaldsway, the still-controversial figure from the seventeenth century known as Illiam Dhone (Brown William) and revered by many as a patriot who died for the Island.
He was sentenced to death and shot at Hango Hill (a couple of miles from the church) in 1663 and buried in the chancel, a few feet from where the memorial now stands.
The monument takes the form of a nickel-silver bust, attached to a wall-mounted stone.
It is by the distinguished sculptor Professor Bryan Kneale R.A. who is Manx and whose grandparents came from Castletown in the parish. It was funded by the Manx Heritage Foundation and unveiled by the artist in 2006.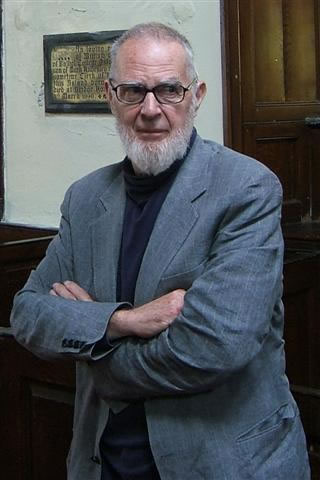 Professor Kneale visiting Malew in 2005 to choose the site for the monument.
Photograph by Jonathan Kewley